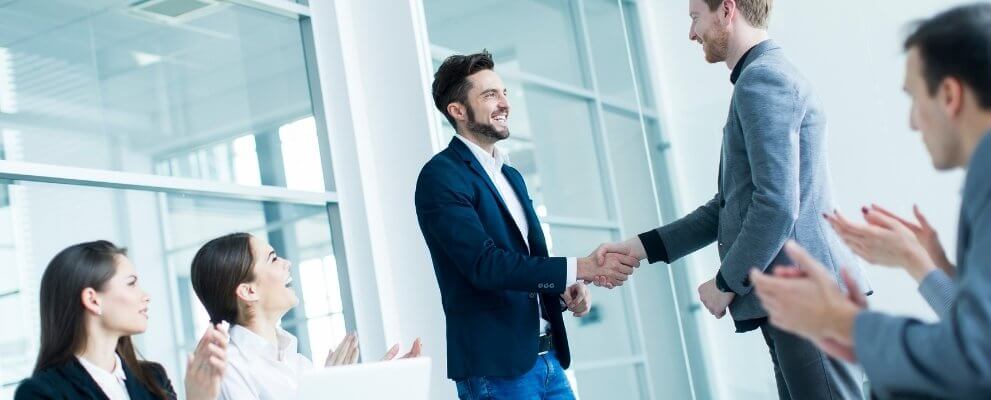 How to Recruit and Retain Your Staffing Sales Team
Selling in the staffing industry is different than conventional sales; instead of selling a tangible product, you're selling a service. As a result, recruiting and retaining members of your temporary staffing sales team is a unique process.
"Staffing sales is more about education rather than just selling," says C. Adam Forbes, president of BaronHR. "You need someone who can educate your clients on the services you have and how they can help their business, while also educating them on the potential risks and consequences of handling employment on their own."
Evaluate sales skills
There are several skills you should look for in your staffing firm sales staff.
First, look for someone who is self-motivated and who has excellent people skills and strong adaptability, Forbes says.
"One day you're speaking to a manufacturing plant manager, the next day you're talking to a CEO looking for administrative help," he says. "Temporary sales staff needs to be able to talk shop with mechanically minded people but also have the professionalism to speak to upper management. We cater to many different industries, so they also need to have a working knowledge of these industries to present our services in a way that is applicable to our potential clients."
Look for staffing experience
Ideally, hire those with experience in the industry, Forbes says.
"Historically, the percentage of people who are a good fit and successful are those who come with staffing experience," he says. "There are a lot of moving parts in the staffing industry, and if they don't have the knowledge, it can be hard to sell."
If they don't have experience in staffing sales, experience in some aspect of a staffing firm's business operations is preferred because they will understand how the industry operates. These could be people who have worked in workers' compensation, human resources or temp payroll services.
Focus on retention
One of the best ways to retain your sales staff is to take care of their clients, which not only builds the reputation of your company but also the reputations of the sales representative, Forbes says.
Another way is to be a good listener and provide support whenever needed.
"Sales staff members need to be able to voice their opinions, and you need to understand their challenges and listen to what they are," Forbes says. "Everyone wants support and structure to know they are given every possible opportunity to be successful."
Recognition programs are also excellent retention tools. Consider recognizing your sales staff in company newsletters and at awards dinners, and personally congratulate them on good sales weeks.
A good compensation plan is also key. The best commission structures both incentivize the sales representatives and bring in new business.
"Reward your sales reps for bringing on new clients with a bonus and then with a residual commission based on the profitability of the account," he says. "This encourages them to bring on profitable and healthy accounts because they benefit them long term. After a year, the commission should drop to encourage them to bring in new business. They can't have just one big account that they're living off for the rest of their life."