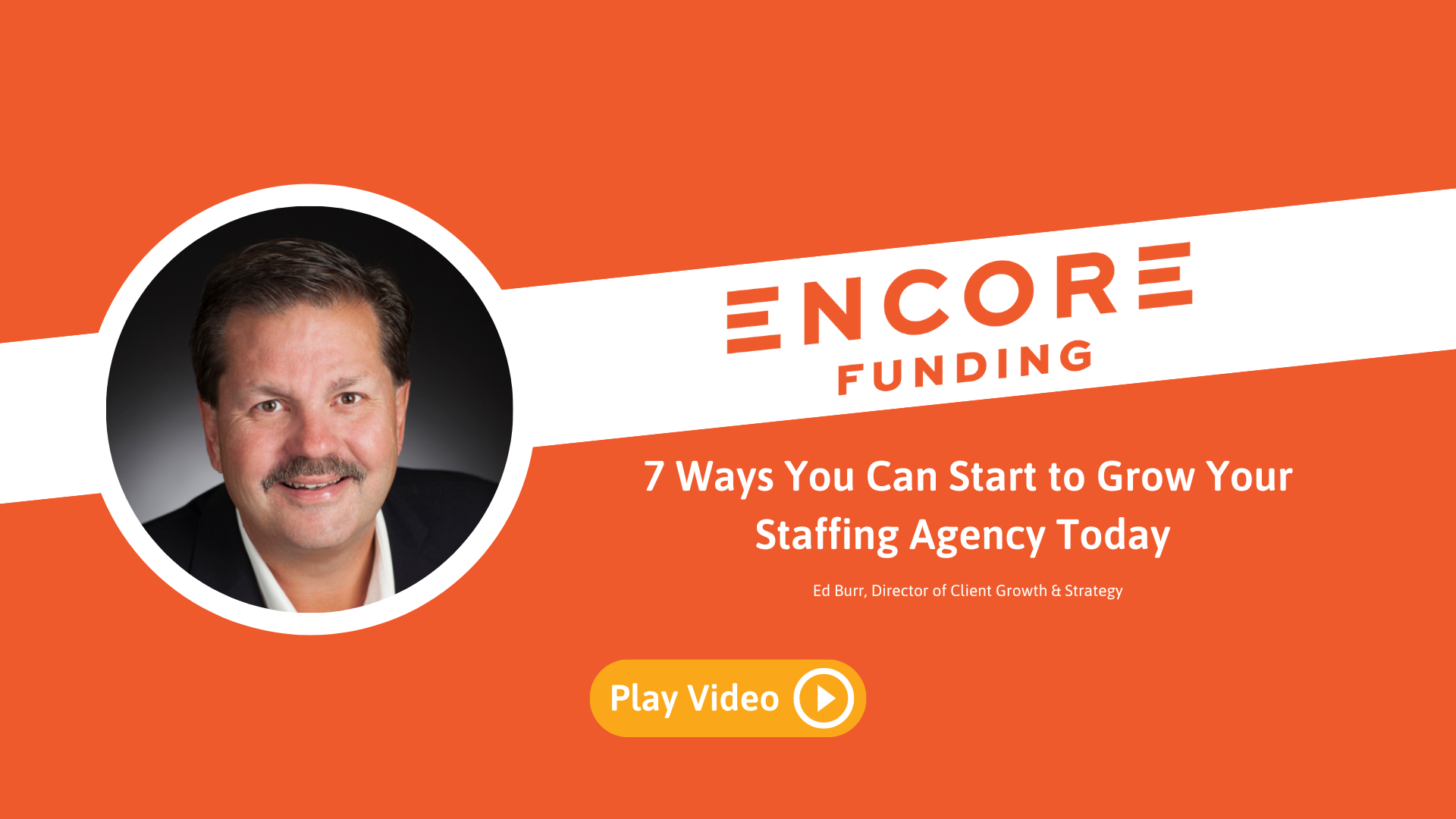 How to Grow Your Staffing Agency
7 Ways You Can Start to Grow Your Staffing Agency Today
As a savvy staffing entrepreneur, you've probably wondered how you can grow your staffing agency. You're headed in the right direction by reading this article! Whether you have a handful of employees or hundreds, you can begin using these tactics to grow your staffing agency.  
Ed Burr, Director of Client Strategy & Growth, weighs in with his top seven tips that small to mid-size staffing firms can use to fuel their growth. Watch his video or continue reading below. 
1. Leverage Referrals & Networking
The human aspect of referrals and your network are two of the strongest ways to scale up your staffing firm. To build referral relationships, demonstrate you can deliver on your promises and stay in regular contact with past, present and future clients. You can also follow up after successful placements and invite them to network, too! 
You can create new referral opportunities by proactively seeking out connections and offer creative solutions. It's important to build and maintain trust with clients and candidates, so consider offering incentives or discounts to foster relationships.  
Today, it's easier than ever to build your network and business with professional social media platforms like LinkedIn. Traditional networking events like tradeshows, professional organization meetings and charity events are still valuable to grow your network.  
2. Use Technology & Automation
When you think of how to grow your staffing agency, technology should be a core focus. Consider investing in software that can automate key processes like applicant tracking systems (ATS) and customer relationship management (CRM) systems. These tools make it easier to perform time-consuming tasks so you can invest your energy into other areas of your business. 
Software can help you post jobs, review applicants, manage onboarding tasks and keep up with client relationships; many even allow you to create templates so you don't have to manually build the process each time.  
In addition to automation software, technology like video interviewing platforms and mobile-friendly recruitment websites are great ways to streamline your recruitment process. You already know that it often takes time and investment to find qualified and quality employees – these tools make it easier to stay organized and quickly connect with the candidates who match your search.  
3. Strategically Invest in Your Brand
You've spent considerable time and money building your staffing firm, now it's time to increase brand awareness to grow even more. Marketing is a core component of a strong business plan, but if you haven't had time to think about it until recently, it isn't too late.  
Utilize multiple marketing channels like social media, website content and email marketing to promote your firm's services. You can showcase your experience and share content that resonates with both clients and candidates. The time you invest in marketing activities will pay off in the long-term success of your firm because they help build a positive reputation for your staffing firm. 
Another investment to consider is payroll funding. A trusted partner like Encore Funding buys your outstanding client invoices so you get paid faster. This frees up cash for you to make payroll or invest in other areas of your staffing firm. Fill out our quick application for finding here!  
4. Focus on Client & Candidate Satisfaction
Pay particular attention to your clients' and candidates' satisfaction. Just because a job is complete and payment is in the bank doesn't mean all parties are happy. Take time to form true connections with both your clients and candidates to understand their pain points and how you can help solve them. 
For a good candidate and employee experience, make the hiring and placement process as smooth and positive as possible. Communicate timely updates, respond to inquiries quickly and provide helpful feedback throughout their time with your firm.  
Client and employee satisfaction are essential for staffing firms to grow. Consider all the ways you can be proactive and offer clients solutions to their problems before they even have to ask you. 
5. Provide Excellent Customer Service
At Encore Funding, we often say that your clients aren't buying a service, they're buying YOU! In this industry, it's rarely enough to have a good business model and enough staff to deploy; you have to stand out from the crowd. The best way to accomplish this is through exceptional customer service.  
At the end of the day, your clients will stay with you because you make their lives easier. This can include personalized solutions, timely support services and quick responses to inquiries. 
6. Monitor Industry Trends & Develop Strategies Accordingly
Constant monitoring of industry trends is a must for staffing entrepreneurs who want to stay ahead of the competition and grow their business. Stay informed about the latest recruiting trends through news sources, industry publications and competitor activities. Additionally, staffing entrepreneurs should take advantage of digital resources such as webinars or online courses to stay up-to-date with the industry standards.  
The Encore Funding team keeps a finger on the industry's pulse by reading the Staffing Industry Analysts daily news page, American Staffing Association's Staffing Today and Staffing Hub, among others. Subscribe to several industry publications' e-newsletters for insights in your inbox! 
After you review industry and competitor trends, you can modify your approach to stay competitive and be ready to meet changing demands in the market. 
7. Offer Specialized Services to Targeted Industries or Niches
Underserved, growing and niche industries provide another opportunity for staffing firm growth. Offering specialized services tailored towards specific industries or niches can help your firm expand its reach to gain more clients. 
Here is another area where research is key. Lean on industry publications and your own network of peers or employees to help you understand the growth trends. Once you've identified the target industry or niche, make sure everyone on your team is up to speed and ready for the transition. 
How to Grow Your Staffing Agency in Impactful Ways
With consistent effort, you can continue to develop your staffing firm and take it to the next level. The passionate staffing industry experts at Encore Funding are ready to help your staffing firm grow with reliable funding, back-office support and the strategic advice you need! Reach out to our team and we'll get in touch quickly.