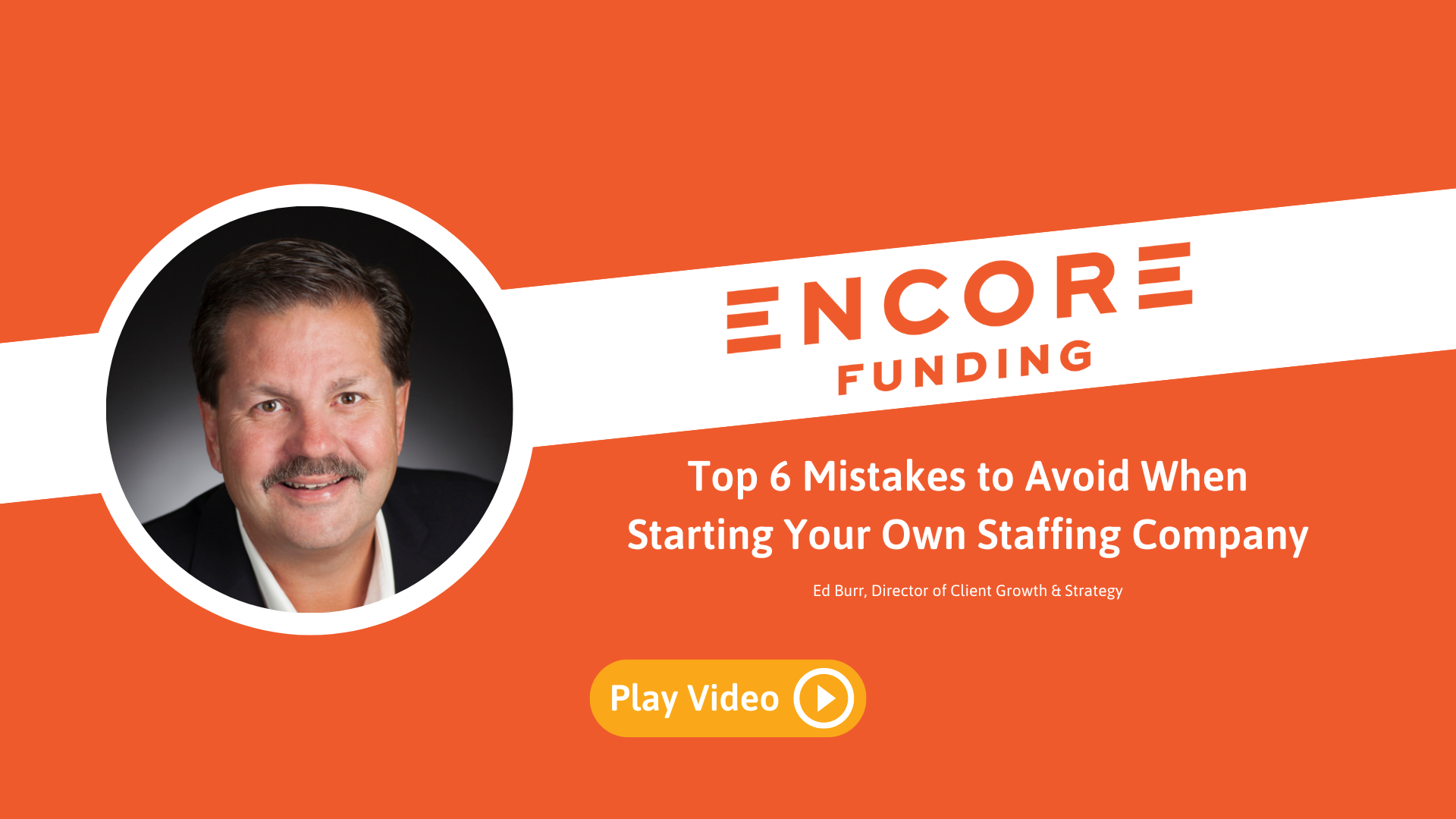 Top 6 Mistakes to Avoid When Starting a Staffing Agency
How to Start a Staffing Agency: Pitfalls to Avoid Early On
Whether you're interested in how to start a staffing agency or you've already begun doing business on your own, congratulations and welcome! The staffing industry is multifaceted and intriguing. When you first start out, though, it can be difficult to know what mistakes you should avoid.  
Our industry is complex. It requires knowledge of the laws and regulations related to staffing and the ability to understand customers' needs. The staffing experts of Encore Funding are here to help you navigate around common pitfalls that plague new staffing agency owners as they learn how to start a staffing agency. Watch Ed Burr, Director of Client Growth & Strategy, or keep reading below.
Top 6 Mistakes Staffing Agencies Should Avoid
Mistake 1. Not being legally secured
When you think about how to start a staffing agency, one of your first actions should be to get your legal matters in order. What does this mean? To operate a staffing agency, you're required to have proper insurance coverage like general liability insurance, workers' compensation, professional liability insurance and others. This helps you legally protect yourself. 
Each state has its own staffing agency insurance requirements. If you're new to the industry, it's helpful to engage a business attorney or agent in your state to identify all the legal requirements to start your agency. You can also check your state's online resources, like Ohio's Bureau of Workers' Compensation, for more information on individual requirements.  
At Encore Funding, we always recommend our clients take out the best workers' compensation policy they can afford. It helps protect you personally and your business from massive financial loss in the event of a workplace accident or injury. Although the best policies are expensive, they're an essential aspect of starting a staffing agency and will save you headaches later.
Mistake 2. Lacking a solid business & financial plan
Before you start your staffing agency, it's important to have a strong business and financial plan. As you develop them, keep your staffing company goals in mind and structure your decisions around them. If you aren't sure how to put these plans together, we recommend you partner with a strategic consultant who understands your needs and goals. Encore Funding offers strategic consulting for new staffing firms like yours.  
Another business consideration is payroll funding. This is a great option for startup agencies without a ton of working capital because although you pay your employees weekly or bi-weekly, your clients probably won't pay you for 30 days or more. This means you need a solid funding partner for cash flow.  
At Encore Funding, we go beyond payroll funding to support you with business development and other strategies that are crucial to establish in your business. We use our decades of experience from past clients to help you grow your business the smart way. 
Mistake 3. Starting out with low rates
Many new entrepreneurs are so excited about starting their staffing agency that they try to win business with enticing low rates. At Encore Funding, we cannot caution you enough that you must make some profit on every client. Why? For two reasons.  
You need funds to cover unexpected expenses. Typically, it's workers' compensation. This is why we suggest that you work with an attorney and find the best worker's compensation coverage you can afford.

It's difficult to raise prices once they're established. Clients expect consistent rates and may take their business elsewhere if they're required to pay more. The best way to make your rates appealing to clients is deceptively simple: offer the best service and experience possible in your area. Read on for more information on this in the next section.
You can determine pricing through competitor and market research, or rely on a trusted partner like Encore Funding, whose experts have decades of staffing industry experience. We can help you understand the competitive landscape and determine appropriate rates for your services in your area.  
Mistake 4. Not understanding the competition & how to differentiate yourself
It's vital that you thoroughly understand your competitive landscape when you start a staffing agency. This helps you identify potential opportunities, what jobs are in high demand in your area, who your competitors are and what services they offer. Gather this information now to make smart business and marketing decisions long-term. 
Create a unique selling proposition. Identify your strengths and use them to stand out from the competition. Without differentiation (and promoting how you're different), your staffing business will blend in with the crowd. The most impactful differentiation you can offer clients is exceptional service. As we briefly covered above, it's easier to charge premium yet fair rates if you offer unparalleled service. 
Above all, never give your clients an excuse to end their services with your business! 
Mistake 5. Operating without a niche
Start your staffing company in an industry that you have experience in, whether it's light industrial, clerical, technology, healthcare or another specialized industry.  
It might be tempting to jump into something new right away, but our clients see the most success when they operate in a niche they're comfortable with. As you grow and as you gain more clients, your opportunities and experience will grow, too. 
A niche helps you tailor your services and marketing materials for a specific group of prospective clients. Determine your target clients through research in the surrounding market.  
Some industries may be easier for staffing agencies than others. Industries with high turnover rates, specialized skillsets or frequent use of temporary positions can be beneficial for staffing agencies to operate in.  
Mistake 6. Undervaluing the role of technology
If How to Start a Staffing Company: 101 were a class, this would be one of the most important topics! The right technology for your back-office operations helps your business run and sets the tone for future growth. Here are a few of the most important technology investments a staffing business can make: 
Applicant tracking system (ATS): Make the recruitment process easier and keep track of candidates in one place.

 

Customer Relationship Management (CRM) System: A CRM system can help streamline communication with customers and manage client relationships efficiently.

 

Accounting Software: Having an accounting application in place helps manage finances, generate reports and automate mundane tasks. 

 

Project Management Software: This software can be used to track project progress and ensure deadlines are met. 

 
If making big technology decisions seems daunting, the Encore Funding experts are here to support you. Our team can recommend different types of back-office operating systems to suit your needs or handle back-office solutions for you.  
How to Start a Staffing Company Made Easy
The staffing industry is exciting! There is plenty of opportunity for agency owners who have the drive, experience and goals to succeed. At Encore Funding, we pride ourselves on supporting your goals because we're entrepreneurs ourselves. We're there to help you grow your business – through payroll funding and beyond.  
Connect with an Encore Funding team member to support your new staffing agency.