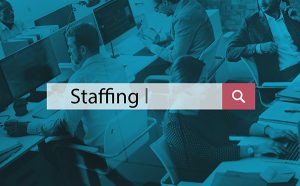 10 Great Online Resources for Staffing Professionals
From reviews on recruiting software to reports on market trends, payroll and labor management, the online staffing community is vying for your attention. Industry analysts and news sites can keep you abreast of trends. Personal blogs and stories "from the trenches" provide opportunities to network – and learn from your peers. So, where should you start?
Here are 10 websites to pique your interest and help you polish your professional knowledge.
Who they are: As the dominant trade association for U.S. staffing professionals and businesses, the American Staffing Association (ASA) is the industry's leading resource for staffing and employment news, information, analysis, legal reference and legislative updates. Its purpose is to "promote and protect the interests of the U.S. staffing, recruiting and workforce solutions industry across all sectors through advocacy, research, education, and the promotion of high standards of legal, ethical and professional practices."
What they offer: Timely, relevant information, data and resources to help staffing professionals do their jobs. Members receive several exclusive ASA publications to keep them ahead of industry trends, and ASA books and certification materials are available for purchase by members. The association also publishes two trade magazines: Staffing Success and Staffing Industry Review.
Who they are: CEO and Founder Eric Gregg grew Inavero from a startup to an industry thought leader that conducts more than 1.2 million client and talent satisfaction surveys annually. Inavero also partners with ASA to provide service quality research for staffing agencies.
What they offer: An annual list of Best of Staffing Agencies at BestofStaffing.com. The listing features rankings and descriptions in partnership with CareerBuilder and Indeed. Additionally, Inavero's Best of Staffing® awards recognize staffing industry leaders in client and talent satisfaction.
Who they are: Software Advice is "the leading online service for businesses navigating the software selection process." Founded in 2005, the company now operates as a subsidiary of market research giant Gartner Inc.
What they offer: Research and user reviews on software applications for small and midsized businesses in markets such as business intelligence and marketing automation, in addition to more than 300 other categories. The company also disseminates regular news bulletins on software companies, new products and updates to existing products, along with trends in software. Its annually updated software buying guide covers the latest staffing agency software and supplies helpful evaluations and information to aid buyers.
Who they are: Recruiting Daily is a Shelton, Connecticut-based media and management services company led by longtime health care recruitment specialist Noel Cocca. Its staff of seasoned recruiting industry professionals research and deliver relevant content aimed at human resource management and staffing agencies.
What they offer: Podcasts, eBooks, on-demand videos, white papers, networking events and industry trade shows, and recruiting tools for today's talent leaders.
Who they are: The recruitment management services company is known for its award-winning Betterteam applicant tracking system (ATS). Its website has not only timely articles and reviews, but also downloadable boilerplate letters, applications, guides and advice for recruitment and staffing professionals.
What they offer: Reviews of more than 3,000 staffing agencies, ATS and other hiring systems, plus tons of articles and how-tos on popular HR topics such as employee relations, talent acquisition, software and more.
Who they are: The Denver, Colorado-based publishing company, launched by former General Electric marketing communications executive David Folwell, employs a small staff of marketing communications writers to supply staffing businesses with online content, data and resources to help them succeed.
What they offer: The annual State of Staffing Industry Growth Benchmarking Report and the State of Staffing Webinar, which features the latest on tools and tactics used by the fastest growing staffing firms. Staffing Hub also puts on sponsored conferences and webinars and publishes the Staffing Industry Intelligence Blog, how-to e-books on recruiting tactics, social media and digital communications for staffing professionals.
Who they are: TheMountain View, California-based market research firm is an industry advocate specializing in global workforce and staffing solutions.
What they offer: Webinars focusing on relevant contingent labor topics, from the overall economic picture to industry developments and forecasts. SIA's website highlights the organization's most recent research reports along with information on staffing best practices, trends and technologies. SIA also provides staffing training and accreditation through its Certified Contingent Workforce Professional (CCWP) program.
Who they are: Longtime business journalist, Subadhra Sriram, is editor and publisher of this Staffing Industry Analysts offshoot that serves the human resources and staffing industry.
What they offer: A steady flow of staffing industry news and thought leadership articles from professionals working in (or associated with) the staffing industry. Topics range from IT staffing to sales strategies to legal advice.
Staffing industry leader websites
Who they are: As role models and trendsetters for the staffing industry, these large firms have the resources to perform in-depth industry research and analysis, as well as deliver high-quality marketing campaigns and content to their audiences.
What they offer: Resource portals and insights hubs chock-full of timely studies, whitepapers, articles and more. Just as importantly, these websites serve as carefully designed models of how firms can deliver powerful, effective messages and content to clients, employees and job seekers.
Recruitment search engine websites
Who they are: These major dotcom search engines include Dice, Indeed, Monster, CareerBuilder, LinkedIn, Glassdoor, Idealist, Action without Borders, Google for Jobs and specialized sites.
What they offer: A treasure trove of talent acquisition and HR resources for staffing industry professionals. Need links to occupational or job descriptions? Statistics? Look no further. Want to peruse resumes and profiles or see what your competition is up to? Click away.
LOOKING FOR MAGAZINES?
Check out one of these industry publications for more strategic insights, best practices, reports, articles and more.